Warning!
Success!
Read interesting news stories and advice articles from ERA's team in our News. If you have any suggestions of topics you would like us to cover please contact us and let us know; or you have a specific question why not ask one of our ERA Expert's for help.
26/01/16
There were 211,994 home burglaries between April 2013 and March 2014, according to the Crime in England and Wales survey, so protecting your home has never been more important. There are a number of different options available, however a monitoring s... Read More
07/01/16
ERA in partnership with TouchKey brings Cutting-Edge Smart Lock Technology to Households in the UK. Launched at CES 2106, the ERA TouchKey residential Nightlatch smart lock will have UniKey's Touch-to-Open passive, one-touch entry and enhanced secu... Read More
30/12/15
Safety restrictors are a must for any premises that is a home to children. Whether they are fitted for your own protection and security or you are responsible for a public building where vulnerable groups of the community live, restrictors offer noth... Read More
07/12/15
Home security should be top priority for everyone, sadly there is always an increase in burglaries during the winter months so making your property safe for you and your family is paramount this time of year. Read More
07/12/15
The invention of the dead bolt saw a significant drop in burglaries across the country in the 1960's, the kite marked multi-point door lock is a modern system that adds a new founded security to your home Read More
Blog Archives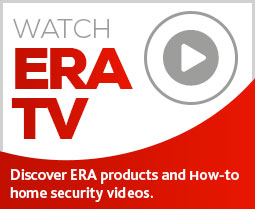 Subscribe to ERA news
Keep up to date with the latest home security news, products and updates with the ERA home Security newsletter.