Date: 23/02/21
The main entrance to your home is your front door. You might think that this is too obvious a point of entry for a criminal, but you would be surprised. This is why it is always very important to consider front door security whenever you are evaluating your home security solutions. There are a few different ways in which you can do this, from changing the door locks to installing a smart alarm system such as ERA Protect that looks after all areas of your home.
New Locks
Changing the door locks is a great way to improve your front door security. At ERA we have a range of door locks that have been designed to the highest security standards.
ERA Invincible
The Invincible lock removes the chance for a burglar to break into the cylinder at all. The robust design strengthens the defence mechanism of the lock and is the best you'll find anywhere. It is anti-drill, anti-snap and anti-bump. Manufactured using solid brass, the lock comes with 3 keys.
ERA Fortress
A high-performance euro cylinder that has six hardened pins that combat drilling, picking and bumping. Independent testing shows it to have maximum resistance against forced entry. When attacked, a security pin is triggered to block the cylinder cam.
ERA Protect
ERA Protect is our amazing smart alarm system, offering a range of benefits to keep you safe:
The alarm system works at an optimum level 24-hours a day, whether you are at work, on holiday, or asleep in bed at night
Simple, clean installation. The home alarm system doesn't look cumbersome or in the way and it is easy to take with you should you move home
The set-up and control of the alarm system is easy, even for a novice. The family app is controlled from any location via your smartphone
Minimal disruption, even if your Wi-Fi is down for any reason the system has an in-built 4G SIM to keep the system and security cameras running until the home is back up and running
For more information and guidance on our range of smart alarm systems and front door security, speak to a member of our team today on 01922 490 050 or help@erahomesecurity.com.
0 Comment
---
Blog Archives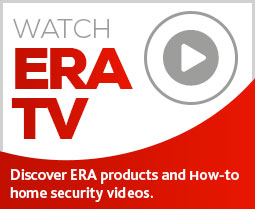 Subscribe to ERA news
Keep up to date with the latest home security news, products and updates with the ERA home Security newsletter.