ERA Gender Pay Gap Report | 2018
At the cornerstone of the UK's hardware sector, ERA continues to drive the innovation that underpins home security. With over 175 years of manufacturing, design and innovation, we have been firmly at the heart of securing Britain's homes since 1838.

Under UK legislation, all organisations with 250 employees or more, are required to publish data which demonstrates the pay differential between male and female pay.

In the UK, ERA have 343 employees over 6 operational sites.

The results for 2018 highlight the continued challenges ERA faces when looking to attract females into a traditionally male manufacturing organisation and shows the high number of males in each pay quartile in comparison to the number of female employees.

These results show a mean difference of 31% (2017:29%) and a median difference of 24% (2017: 15%) and is as a result of changes during the year to the employee base, including the departure and appointment of a number of staff across the operational areas.

The proportion of female employees in the ERA Group is 31%, with the majority of females employed by the Group working in Light Assembly, Customer services, Marketing & Finance activities.

Employment Policies
ERA is committed to supporting employment policies and practices that make provision for equal opportunities and non-discrimination, and that comply with relevant local legislation and accepted employment practice codes. An Investors in People Gold Standard holder with a clear set of universally understood business values, we use opportunities to promote from within, based on merit, to help increase the gender diversity of our workforce.

Our employment policies and practices aim to ensure that an individual's skills, experience and talent are the sole determinants in recruitment and career development rather than age, beliefs, disability, ethnic origin, gender, marital status, religion and sexual orientation.

ERA is committed to ensuring that equivalent roles within each of its areas receive appropriate and equivalent remuneration which is validated on an annual basis using externally sourced Towers Perrin data. Accordingly, our Employment policies, human resource systems and processes are focused on attracting and developing as diverse a workforce as possible.
 
Reporting ERA's gender pay gap
The results shown below are the aggregation of our UK employees.
The UK Government gender pay gap regulations asks for four sets of data:
1. Reporting differences in mean and median pay between males and females, calculated on the basis of equivalent hourly pay rates
| | | |
| --- | --- | --- |
| Mean hourly pay difference between male and female employees | | 31% |
| Median hourly pay difference between male and female employees | | 25% |

2. Reporting the distribution of males and females between pay band quartiles, calculated using the range of hourly pay rates
| | | | | |
| --- | --- | --- | --- | --- |
| Lower quartile pay band | Male | 50% | Female | 50% |
| Lower middle quartile pay band | Male | 64% | Female | 36% |
| Upper middle quartile pay band | Male | 79% | Female | 21% |
| Upper middle quartile pay band | Male | 84% | Female | 16% |

3. Reporting the differences in mean and median bonus pay between males and females

| | | |
| --- | --- | --- |
| Mean difference between male and female bonus payments | | 44.5% |
| Median difference between male and female bonus payments | | 11.1% |

4. Reporting the proportion of males and females receiving bonus pay in a year.

| | | |
| --- | --- | --- |
| Proportion of male employees receiving a bonus payment | | 6% |
| Proportion of female employees receiving a bonus payment | | 2% |

Managing the Gender Pay Gap for the future
Our Executive team acknowledges the imbalance of women in more senior roles and welcomes the Government initiative on pay gap reporting. Simply put, it's the right thing to do. Our current gap is driven in part, by the traditionally male dominated nature of our industry and in part, by the high proportion of women in more junior roles with lower earning potential.

As part of our ongoing commitment to more balanced gender pay, we will:
Review and support equal development opportunities and provide flexible working arrangements wherever possible;
Continue to review our pay and reward structures to make sure gender bias doesn't exist. Our roles are already underpinned by job evaluation and transparent grades, but the report highlights the need to do more to improve equality and diversity;
Apply this same lens to our recruitment practices, making sure we use gender neutral language so as to encourage more female applications for roles across the business particularly in our Manufacturing and Design Teams

The findings from this report and the awareness it raises means we must continue to question and truly understand any barriers to equality and diversity, and take action so that we achieve a high performing workforce where all our employees can reach their full potential.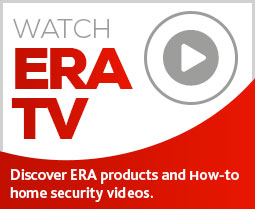 Subscribe to ERA news
Keep up to date with the latest home security news, products and updates with the ERA home Security newsletter.