Whether you're having a complete home makeover, new extension or even new windows and door – it's a great time to think about improving the security of your home.
If you're replacing your windows and doors as part of your project you should not only consider the thermal performance, style and design of the frame but also the security they provide.
Replacement doors and windows
Whether you're visiting showrooms or inviting glazing companies into your home one of the first questions you should ask is all about the locking mechanism and how it performs.
Not only does the lock need to be simple to operate it needs to give you complete peace of mind that it will do a fantastic job of keeping out unwanted guests. There are some simple questions that will help you judge the performance of one lock over another.
Read our 'Guide to Standards' which will tell you in simple terms what you should look for when assessing the performance of your locks.
Upgrading your existing door and window locks
Not every home improvement job will require you to have new doors and windows – you might be happy with the ones you've got. But if you've had them a while or inherited them from a previous owner it's a good idea to check that the locking mechanism meets current security standards.
You may want to consider getting one of our ERA Approved Partners to carry out a FREE home security survey on your home. Available nationally, our ERA Approved Partners are members of the Master Locksmith Association (MLA) Or read our 'Door Locking Products' download to learn more about the type of lock you will probably have on your door and how you can improve it.
Expert Tips
Ask your glazing company - To talk to you about the security performance of your new doors and windows. They should be able to tell you confidently that the lock has a Kitemark and is PAS 24 approved.
Ask about ERA Five Star Guarantee - The ultimate home insurance guarantee linked to the performance of your door and window locks.
One of the most important DIY jobs you can do is upgrading the cylinder on your front door – the cylinder is the component you put your front door key in. As many as 70% of break-ins are committed by burglars entering a door so this simple DIY job can significantly reduce your risk. Watch our 'How to change your cylinder' video or if you need a 'man who can' have a look at our ERA Approved Partners.
It's always a good idea to fit additional door and window looks – not only will they provide an extra layer of security they also act as a visual deterrent to a burglar.
Help & Advice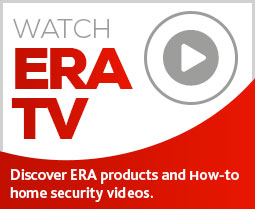 Subscribe to ERA news
Keep up to date with the latest home security news, products and updates with the ERA home Security newsletter.