ERA Company Information
Over 180 years, we've invested in our expertise so we've always been in touch with the latest methods of protection. So as people have adapted the way they live, we have adapted the ways in which we help them to protect the things that are important to them. We've been doing it since we made our first lock in 1838 and continue to do it today. Our job is simple - develop window and door hardware that stands out from the rest while giving the fabricator, installer and homeowner clear benefits.
ERA has been designing and manufacturing locks since 1838. Still based in the heart of the West Midlands, we know a lot about the best ways to keep British homes secure – that's why door and window fabricators and installers, locksmiths and police authorities across the country have looked to ERA as security experts for many years. Our innovative locks, handles and hinges have provided peace-of-mind to generations of British homeowners and will continue to do so for future generations.
Under our ERA brand our customers can access a broad range of window and door components from all our industry recognised brands – Crompton, ERA, Fab&Fix, Response Electronics, Zoo, Giesse and Schlegel. From trusted window and door security products, to the latest in smart-home solutions, ERA has a wealth of knowledge and a vast product range to fulfil all customer needs. Product innovation starts with our design and technical teams; and we engineer quality and performance into every piece of door and window hardware, creating products with durability, ease of installation and functionality in mind.
We don't just make hardware, we also endorse it with the UK's total security guarantee
Because we've been securing Britain's homes since 1838 and with all that experience in designing and manufacturing door and window hardware, we're confident that our security products are the best in class. That's why through the ERA Total Security Guarantee we'll guarantee that hardware with the UK's comprehensive home security guarantee recognised by the Neighbourhood Watch. Providing homeowners with the best security and expertise to bring you complete peace of mind.
The expertise you need, the ERA way
At ERA, we leave nothing to chance, the products we bring to the marketplace have been through a gruelling testing procedure before launch. Our UKAS accredited laboratory (registered number 4052) is fully equipped to test residential windows and doors to the latest industry standards. Not only that, but the test house plays an integral role in our new product development, ensuring that when products reach our customers you can be confident you are using the ultimate in window and door hardware. We have an entire team dedicated to offer you technical advice and expert help when you need it - whether that's over the phone, email or on site. We are also a member of industry leading trade associations and a number of our experts sit within the committees to influence industry standards.
It's not all about locks . . .
At ERA, we are also fully committed to giving back to the local and wider community. We have a nominated national charity each year, voted for by employees. ERA supports the Locksmith House Museum in Willenhall – home of the UK's lock making heritage and proudly supports Neighbourhood Watch ensuring local communities have the very best crime prevention and security advice.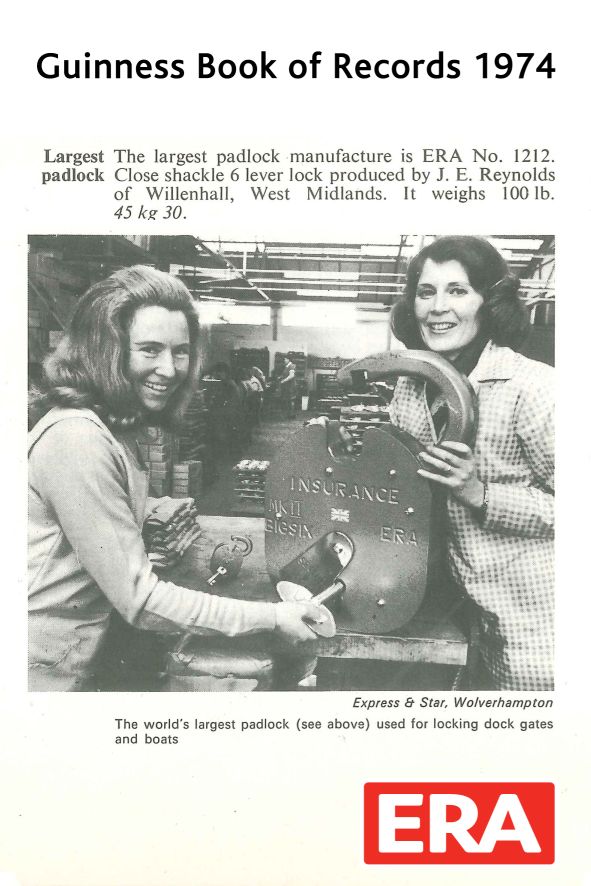 ERA also appeared in the Guinness Book of Records 1974 for the World's Largest Padlock which we still have here in Willenhall today.
Did you know . . . that Straight Road ERA's original home, was constructed to link Lane Head Bridge to Coltham Road after the original route from Willenhall to Bloxwich via Haley Street and Ezekiel Lane had been stopped up by the cutting of the Wyrley and Essington Canal in 1794. Was originally known as The Straight Lane. http://www.willenhallhistory.co.uk/society/streetpage.htm
About ERA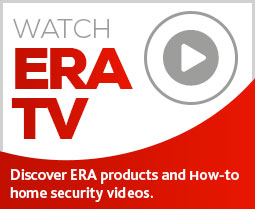 Subscribe to ERA news
Keep up to date with the latest home security news, products and updates with the ERA home Security newsletter.