Investors In People
ERA Home Security Limited (formerly known as Grouphomesafe) has been accredited as Investors in People since 2014. Since the last assessment the Group has continued to evolve and consolidate under a shared branding acquiring three companies and divesting one existing company. The assessment occurred following a major relocation of the Midlands operations and Head Office function to a new, purpose-built facility on the i54 Business Park in Wolverhampton providing an improved working environment, opportunities for greater efficiency and room for further growth.
The assessment commenced in December 2017 with the online survey deployed during December and January to include the newly acquired business. A good response rate of 58% was achieved within the survey and subsequently 40 staff were interviewed in March representing a range of roles and length of service across the Group. The site visits included observation of management and team briefings, reviews of a range of documentation including performance data and tours of the various locations with opportunities to talk to staff.
The assessment concluded that ERA Home Security Limited surpasses the minimum requirements of the Standard and has demonstrated that the Group is operating at an advanced level of organisational performance in seven out of nine key indicators as shown below. We are therefore delighted to confirm that ERA Home Security Limited is awarded Investors in People Gold accreditation until March 2021.
This assessment revealed an organisation that has continued to evolve and mature the organisational strategies required to fulfil the long-term vision of a cohesive and integrated group of companies aiming for sustained high performance. The pace and rigour of this development since the first assessment is remarkable and stands as testimony to the commitment of senior leaders to engage with everyone.
Key Strengths Included
Leadership and management strategy and structures
Clear sense of direction and focus on future success
Transparency of information and evolving culture of trust
Involvement and empowerment
Collective sense of pride and passion for customer focus
Organisations that meet the world-recognised Investors in People Standard reflect the very best in people management excellence. Underpinning the Standard is the Investors in People Framework. Based on 27 years of leading practice, the latest research and workplace trends, the Framework is organised around nine key indicators of high performance, each with three underpinning themes.
To achieve accreditation, organisations are assessed against these themes and indicators, leading to an award level of standard, silver, gold or platinum, that represents the level of performance achieved, or the level of 'maturity', from a fundamental 'Developed' level to 'High? Performing?'. Assessment is carried out using surveys, interviews, desk-top research and observations to achieve an evidence-based judgement of the level of performance and award level.
The accreditation awarded represents the current level achieved and the standard can be used to facilitate ongoing development of people management practices.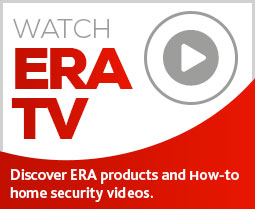 Subscribe to ERA news
Keep up to date with the latest home security news, products and updates with the ERA home Security newsletter.