Wireless Alarms and the issue of jamming
ERA recognises that there is an inevitable arms race between ourselves and those who wish to undermine the safety of our homes. In a fast-moving technological environment, new methods of compromising home security systems are constantly developing.
Whether you're having a complete home makeover, new extension or even new windows and door – it's a great time to think about improving the security of your home.
If you're replacing your windows and doors as part of your project you should not only consider the thermal performance, style and design of the frame but also the security they provide Read more about upgrading your home security
Burglary can happen anytime day or night, winter or summer but the latest crime figures published show that the number of burglaries rises in the months of November through to January. And while we generally keep our windows and doors closed and locked more in the winter there are many telling signs that show whether your home is empty or occupied. Read more about keeping your home safe
Moving house is incredibly exciting. After weeks of planning and sorting it's great to get your new keys and sit back and enjoy your new space.
But at ERA we recommend that before you even move your first box in – you change the locks – easier said than done? It's an incredibly simple and the cost is negligible. You'd be surprised just how many keys to your property might still be in circulation – from previous cleaners, gardeners, mothers-in-law and even neighbours. Read more about securing your new home
When looking at security you need to consider not only the house but also your outbuildings – sheds, garages and gardens/ gates.
For garages it's a good idea to not advertise your goods to passers-by, by keeping the garage door closed even when in use. Prickly shrubs can be an effective and environmentally friendly deterrent if under a window or around your perimeter. The addition of good low energy dusk to dawn lighting makes sense if you are overlooked and can be operated by a movement detector if you are not. Read more about Sheds, Garages and Gates security
Buying new window or doors or upgrading existing ones can sometimes be a daunting prospect – where do you start? And what do you need to do to make sure you're protected?
Consider a FREE home security survey for existing windows and doors – ERA Approved Partners are members of the Master Locksmith Association (MLA) and are available nationally to survey your home for free so you can be confident that you have the best security possible. Read more about General Home Security
Windows are not only a source of light and ventilation for our homes; but can also make a big difference to its look and style; however while windows are a great asset we must carefully consider the security they provide. Read more about Window Security
With 175 years of experience in securing doors, we are perfectly placed to offer you help and support to ensure your doors have the very best security. Whether you're buying new doors or upgrading your existing ones – we can guide you to make the right choices or give you helpful advice to do it yourself. Read more about door security
Help & Advice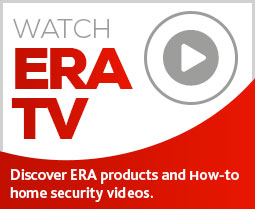 Subscribe to ERA news
Keep up to date with the latest home security news, products and updates with the ERA home Security newsletter.