Total Security Installer Information
In an increasingly threatening world, security is becoming more complex. One device can't make a home safe – it takes the right combination of hardware. Through knowledge built over 175 years and cutting edge product innovation, ERA has the range and expertise to bring total security to any home.
You can now give your customers the confidence that fitting the right package of hardware delivers the ultimate in home security, with a Total Security guarantee to match. The ERA Total Security Guarantee is also the only guarantee scheme recognised by the Neighbourhood Watch.
In the unlikely event of a break-in due to security hardware failure, we guarantee:
Full replacement of the damaged window and/or door
We guarantee your windows and doors against forced entry for their full lifetime and in the unlikely event that an ERA approved component fails and results in a break-in we will fully replace the consumers damaged window or door.
Give you a £5,000 cheque as compensation

In the unlikely event of a break-in succeeding through the failure of a component covered by the ERA Total Security Guarantee, your customer will be given £5,000 to compensate them for the inconvenience caused.

With an up sell that is difficult to refuse...
Fit an ERA Invincible Alarm System at the same time the windows and/or doors are installed and increase the compensation to £10,000 in the event of a break-in.
Just follow these simple steps:
Register with us - Talk to your fabricator about the approved hardware package then register here:
Marketing Support - Once registered, ERA will send your welcome pack with full marketing support to talk to consumers.
Guaranteed - Simply leave one of the ERA leaflets with the consumer at installation and they can activate their guarantee on the website.
How do claims work?
In the unlikely event a home does get broken into through a door or window covered by the ERA Total Security Guarantee, we will conduct an assessment at the property.
If it's found that components covered by the ERA Total Security Guarantee have failed during the break-in, we will organise a full replacement of the damaged window or door and to compensate the consumer for the inconvenience, give them a cheque for £5,000.
All Terms and Conditions can be found on ERA's website, where you can also find handy care information for the hardware and operation guidelines for you or the consumer to download.
Security Guarantees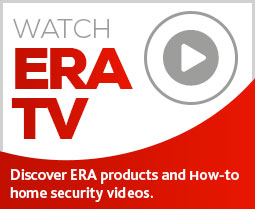 Subscribe to ERA news
Keep up to date with the latest home security news, products and updates with the ERA home Security newsletter.