ERA Purpose and Values
Our Purpose
We transform the security, comfort and sustainability of living and working spaces through our expert touch.
---
Millions are kept safe and comfortable at home and at work around the world because of our expertise. We know that to be experts, we must have a deep understanding of our customers and their needs, an uncompromising commitment to both safety and quality, and a restless ambition to innovate. We never forget that experts are people: growing and energising our talent is at the heart of what makes us different.

With our expertise, we have the power to transform what we touch. We commit to transform living and working spaces, to transform people and careers, to transform the value of our businesses, and to transform our impact on communities and society.
Our Values
Our values frame how we work with each other and with our partners. The way we describe and how we live our culture is captured in our values. They are the foundation of our success and essential to achieving our purpose.
---
Never stop growing
There is no limit to what we can achieve
We take every opportunity to learn and develop, professionally and personally
Every day we make the continuous improvements which people deserve from us
We believe in the power of creativity to break through with new thinking, new ideas, new solutions
Do the right thing
Integrity is the cornerstone of our business
We demand transparency, and we always do what it takes to build or repair trust
We value, respect and look out for each other, and we are strongest when we are most diverse
We speak up and take care to listen, because every voice matters
Make it happen
We are action people
We behave like owners, always ready to hold ourselves and others to account
Inclusive teamwork creates our best results
We take pride in bringing positive energy to our work, and our performance is fed by our passion
About ERA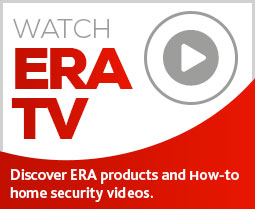 Subscribe to ERA news
Keep up to date with the latest home security news, products and updates with the ERA home Security newsletter.