Date: 23/06/16
In these increasingly well-connected times, a growing number of people work away from home, and even those who don't will often travel on a regular basis. One of the problems for anyone working away from home is how to ensure that their property is safe while they are away. The number of burglaries and home invasions is on the rise, according to Home Office statistics. If you want to ensure that you are not one of those statistics, here are some security tips to make your home as safe as possible.
Get a FREE Home Security Check
At ERA Home Security we offer a free home security check. Simply get in touch with us, and we will come and check your home security and offer valuable advice. Good locks are essential, but if you are away a lot, it's not a good idea to rely entirely on secure locks. One way to enhance that security is to look at overall home security and maybe consider house alarms or IP cameras.
Being Ahead of the Game
A good security system puts you ahead of would be housebreakers, because you can check on things even if you are miles away from home. You can see what is happening in your home while you are away, simply by checking your mobile phone. Modern home security should include high quality door and window locks of course, but also the ability to know what is going on inside your property, and outside, wherever you happen to be. If you do travel a lot, then good security means peace of mind allowing you to feel much safer.
0 Comment
---
Blog Archives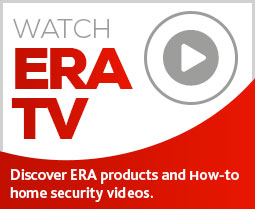 Subscribe to ERA news
Keep up to date with the latest home security news, products and updates with the ERA home Security newsletter.