Warning!
Success!
Read interesting news stories and advice articles from ERA's team in our News. If you have any suggestions of topics you would like us to cover please contact us and let us know; or you have a specific question why not ask one of our ERA Expert's for help.
26/02/16
Getting the correct locks for your doors and windows will safeguard the shell of your house from any unwanted visitors. With theft on the up, securing your home effectively should be top priority. Whether you live in a house or a flat, there are a va... Read More
26/02/16
Approximately 15% of burglaries involve no forced entry at all. This equates to about 100,000 every year, which seems surprisingly high. However an open window in an unoccupied room is a clear invitation to any thief. Read More
04/02/16
ERA's universal Safety Locking Restrictor offers Grade 3 impact resistance ideally suited to homes with families and gives reassurance to parents that their children will be safe around open doors and windows in the home. Read More
Blog Archives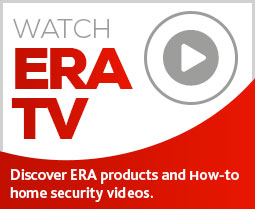 Subscribe to ERA news
Keep up to date with the latest home security news, products and updates with the ERA home Security newsletter.