Date: 26/02/16
Getting the correct locks for your doors and windows will safeguard the shell of your house from any unwanted visitors. With theft on the up, securing your home effectively should be top priority. Whether you live in a house or a flat, there are a variety of options available for your protection. Here are a few areas to consider.
Think about changing your existing door locks, hardware and fittings. If you have recently moved into a property then you should definitely change the lock on your front and back door as bare minimum, after all you never know who else has a key to the premises. Think about the amount of times we give spare keys to friends and relatives. A recent article by 'Spare Keys and Security' noted that "Seven per cent of tenants do not return their spare keys when moving out, increasing the possibility that a stranger has access to your house."
Approximately 40% of burglaries in England and Wales involve a door set that has been forced. This statistic is much higher for those of us that reside in flats or apartment blocks. If you rent your home then always check your landlords' security policy and insurance. Ask them about what safety measures they have in place to keep your home safe.
Make sure that all of your windows have locks. Homes with sash windows can be particularly vulnerable so getting expert advice on your home security will give you the peace of mind that you need.
0 Comment
---
Blog Archives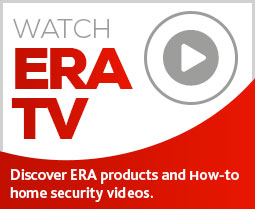 Subscribe to ERA news
Keep up to date with the latest home security news, products and updates with the ERA home Security newsletter.