Date: 26/02/16
Approximately 15% of burglaries involve no forced entry at all. This equates to about 100,000 every year, which seems surprisingly high. However an open window in an unoccupied room is a clear invitation to any thief. It takes a burglar only a minute to squeeze in through a window, grab a handbag or maybe the door keys and slip out again, all while you are making a quick cup of tea in the kitchen. Simply closing a window and locking it from the inside will reduce the chances of unwanted visitors. Your insurance company will be less likely to pay out for any losses if no signs of forced entry can be identified.
Although most window locks are opened and closed with common keys, the lock itself will always be fitted on the inside therefore entry would only be possible if the glass was broken. Ventilation is often a key concern for home-owners, no one likes sleeping in a stuffy room and if your bedroom is on the ground floor then you should consider fitting window restrictors. This will allow you to sleep with the window ajar whilst giving peace of mind that you and your home are safe. It is worth checking if your insurance company have any specific requirements concerning the fitting of window locks and restrictors. It is normal for the small print to dictate that locks are fitted on windows near trees, shrubs, rainwater and soil pipes, even if they are plastic ones.
0 Comment
---
Blog Archives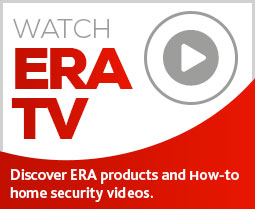 Subscribe to ERA news
Keep up to date with the latest home security news, products and updates with the ERA home Security newsletter.