Date: 21/07/16
Buying your first home is a huge achievement. The last thing that you might want to think about when you are moving into your own home is that someone might try to break in when you're not there, but according to police crime statistics, the number of home break-ins increase year on year. If you want to avoid having someone break in and steal your possessions, let alone the damage they might cause, then you need to think about home security.
Before You Buy
Before you put in an offer on a property, it's worth asking whether they have secure window and door locks fitted. Some properties will already have some security products installed, so ask what features are present in your prospective home. When you do move into your own home, you should start thinking seriously about security.
Free Security Checks
At ERA Home Security we offer free security checks, a very worthwhile option for all homeowners, but particularly when it's your first home. A professional advisor will guide you through what security you need in place on the property and whether what you have is adequate. Many thieves get in through an open window or an insecurely locked door, so it's worth considering having secure window and door locks installed.
Modern security devices make it easier for you to know if someone has tried to break in to your property. Security products include cameras and motion sensors, and you can even view footage of your home when you are at work. Talk to us today for more information.
0 Comment
---
Blog Archives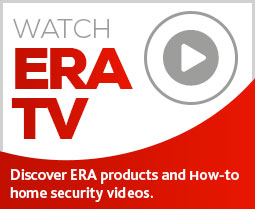 Subscribe to ERA news
Keep up to date with the latest home security news, products and updates with the ERA home Security newsletter.