Date: 13/10/16
One of the biggest worries for young families is how to keep their children safe at home. Making sure that windows and doors are fully secure so that children can't just walk straight out of the house when unattended is an important aspect of childproofing any property. Purchasing and fitting safety restrictors however, is a sure fire way to increase the level of protection offered within the home.
Fall Prevention – The main benefit of a safety restrictor is that is prevents a child from opening a window wide enough to be able to fall out of it.
Long Lasting – They are also built of strong stuff, being designed to safety standards to ensure they stay the course, for a long period of time.
Provides Air to a House – Much like a chain, a safety restrictor allows you to leave a door or window ajar. It allows you to create a draft of fresh air without opening all the windows and the access that provides to intruders.
Easy to Use – For security purposes the easy to use cable lock comes with cut key locking. All you have to do is insert the key and twist to lock, or press the button after key insertion to unlock.
Fit to All Windows – The safety locking restrictors from ERA are designed to fit any type of window, so for those in older properties with large windows, the restrictor can still be fitted.
To find out more about safety restrictors and other types of home security systems that we have to offer at ERA, please visit our Product page. Our expert team are here to help you, no matter your budget or circumstance.
0 Comment
---
Blog Archives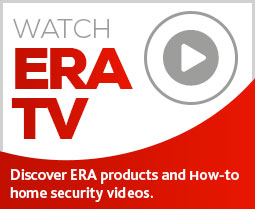 Subscribe to ERA news
Keep up to date with the latest home security news, products and updates with the ERA home Security newsletter.