Date: 26/08/16
The police in Doncaster reacted with surprise and gratitude when a group of Pokémon Go players notified them of an attempted burglary close to a local industrial estate. The police spokesman even went so far as to thank the four friends on a well-known social media site.
Home security, Pokémon style, obviously worked this time for the owners of the property in South Yorkshire, but would you want to put your property at risk by counting on such an intervention? If you are concerned about home security, then choose a company that can provide you with 24 hour peace of mind.
Free Home Security Appraisal
If you book one of our Era Home Security representatives to give your home a free security check, you'll know exactly where the weak spots are in your property. You can check out the video on our site if you want to know more about our free home security checks.
Burglary is a crime that, according to police and home office figures, continues to rise. Why leave your home open to invasion and theft, when something as simple as a free home security check will help identify the danger areas at your property.
Save on Home Insurance
Our home security locking systems are so good that they are given the thumbs up by various home insurance companies, to the extent where you could save money on your annual premiums. Why take the risk of home invasion, when you could book your free security check with one of Era's registered suppliers now?
0 Comment
---
Blog Archives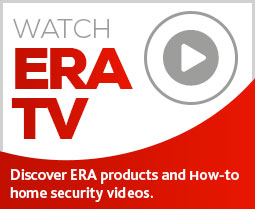 Subscribe to ERA news
Keep up to date with the latest home security news, products and updates with the ERA home Security newsletter.