Date: 27/09/16
Coming up in October is the fourth annual National Home Security Month (NHSM). The annual event provides advice for everything you'll need to keep your home and family safe during the dark, winter months.
Over the course of the month topics will be split into the following, with different types of home security talked about each week. This will include:
Week 1 – An introduction to NHSM with a range of straightforward tips.
Week 2 – An exploration of traditional security solutions and systems as a way of protecting your home, any entry points and the possessions within.
Week 3 – Connected devices and how the modern security industry is developing smart technologies to assist in keeping the home safe from a touch of a button, from wherever you are located.
Week 4 – The return of dark nights and the winter months. A look at how to protect your home with security systems on the exterior of buildings, including good visibility levels for you and your neighbours as a deterrent.
Week 5 – A range of analysis of Halloween and Bonfire Night, and how traditionally break-ins and damage to domestic properties increases at this time of year in the UK. Advice and tips on how to limit and prevent such activity.
For more information take a look at homesecuritymonth.com. ERA Home Security Systems backs this campaign and we will continue to post our own tips and advice regarding your home security systems and general safety, as is tradition.
0 Comment
---
Blog Archives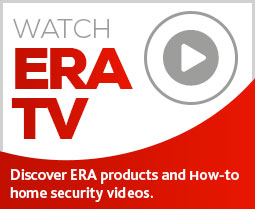 Subscribe to ERA news
Keep up to date with the latest home security news, products and updates with the ERA home Security newsletter.