Date: 27/09/16
ERA, arguably the locksmith's favourite lock, is having a huge year. Earlier this year ERA announced its five-year deal as a primary sponsor of the Neighbourhood Watch, signalling its clear intention to expand on the millions of homes in the UK already protected by ERA hardware. Last year we saw ERA launch its impressive affiliation with the Master Locksmiths Association in the development of the ERA home security survey, the first hardware business to develop a service that directly supports the services of the local locksmith.
Stephanie Wright, editor, caught up with ERA marketing & innovation director Will Butler to understand what else ERA has planned for this year and learn more about the relationship with the Neighbourhood Watch.
SW: So, Will, it's a busy time at ERA. We're really pleased to see ERA deliver some grass roots level support to the industry. Tell me what's behind the decision to support the Neighbourhood Watch, will this benefit the locksmith?
WB: Absolutely Stephanie. We carried out research earlier this year amongst consumers to understand if they viewed home security improvements as a 'do it for me' job or a DIY job, and we were really pleased to learn that home owners still prefer the comfort of knowing a professional locksmith has made their home secure. For us the affiliation with the Neighbourhood Watch is very much about giving home owners clear, practical advice about making improvements to their home security but guiding them towards a professional to do the work for them.
SW: On that note, let's talk product. There's a lot of noise in the market at the moment about 3 star euro cylinders – we've seen some new players enter the cylinder market in the last 12 months, what's ERA's response to this? Do you think consumers need to be made more aware of the vulnerability of some cylinders?
WB: I think if a consumer is looking for a new front door, the security message is very central to the overall proposition, particularly in the composite door market. Our Invincible cylinder, which has just been short-listed as new product of the year in the G Awards is the ultimate in door security for the fabricator but we recognise that we must also give the locksmith something unique that allows them to differentiate their cylinder from the type of product a consumer could simply pick up in a hardware store. The other issue of course is ensuring that our 3 star euro cylinder is the best in the market.
SW: I guess with your own UKAS Accredited Test House you have a unique opportunity to continually test other cylinders and of course develop something superior?
WB: You're right – we certainly know the vulnerabilities of other 3 star cylinders in the market. It's this insight that has enabled us to develop a new range of 3 star euro cylinders that far surpasses the testing requirements. The new range includes three cylinders - Invincible, which I've already mentioned, Professional and Fortress. All three cylinders offer maximum security features and far exceed any of their nearest rivals in attack tests. Unlike every other generic 3 star euro cylinder on the market, the range has been designed to offer unique features and benefits to the window and door industry and importantly locksmiths too.
SW: What's unique about the 3 star cylinder aimed at locksmiths?
WB: The Professional 3 star cylinder is supplied with 2 registered keys, which of course protects against unwanted key duplication ensuring that additional keys can only be supplied by a qualified locksmith. This really does give the home owner complete peace of mind but ultimately gives the locksmith a point of differentiation when it comes to selling. We spent a lot of time last year really understanding the needs and wants of locksmiths and it's only with this feedback we can develop hardware that they want to work with. We recognise that a home owner has two choices – as I said earlier, some are firmly in the DIY camp, but for those seeking a professional installation, we need to make sure that we can give the locksmith something unique that's not available in DIY stores.
SW: It sounds like ERA is incredibly busy. What's next and how will locksmiths continue to benefit from ERA's investment in initiatives like the Neighbourhood Watch?
WB: There's a huge job to be done to improve the nation's home security, it's partly the reason why we committed to a five-year deal with the Neighbourhood Watch, we knew that it would take at least this amount of time to really make an impact. But our contribution and message will be very much focused around getting a professional locksmith to improve your home security. That's good news for your readers.
0 Comment
---
Blog Archives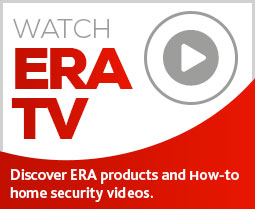 Subscribe to ERA news
Keep up to date with the latest home security news, products and updates with the ERA home Security newsletter.