Date: 27/09/16
One of the best ways to ensure your home security is to fit lights on the exterior of your property that are linked to motion sensors. Motion detectors' are a great asset to any home security system, and here is why:
Protection When You're Away – One of the biggest security concerns is for times when you are away on holiday or if you work at night. A motion sensor will light up your driveway or garden and ensure that anyone walking by will be seen by neighbours. They are a great deterrent.
A Sense of Security When Your Return – Returning home from work when it's dark, or with the shopping (and maybe kids in tow) can be daunting if it's pitch black around the front door. Motion sensors will light your way and help you find the keyhole, and also spot your children and friends if they arrive home when you're already there.
Money Efficient – In the past security lights were bright and had to be on permanently, or on a timer, in order to be used as a deterrent. This costs money. Motion sensor security lighting is available in a range of styles to suit all budgets and also only turn on when required, saving electricity and adding to the longevity of the bulbs used.
Motion sensor security lighting add a different dimension to your home security, saving you money, making you feel safe when you arrive home at night, or when you're away on holiday. They brighten up the security potential of your home.
0 Comment
---
Blog Archives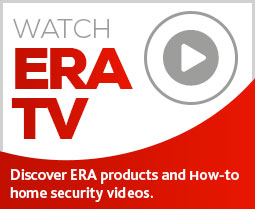 Subscribe to ERA news
Keep up to date with the latest home security news, products and updates with the ERA home Security newsletter.