Date: 18/12/16
Whether you require a padlock for various appliances our outhouses at home, or for sensitive information and delicate equipment in the workplace, there are a range of padlocks that can be bought to facilitate the process. At ERA we understand that there are different types of security needed depending on your circumstances, and as such, we have a range of padlocks to suit all parties.
Padlocks in the home or in the workplace are used to prevent access to areas of the property, so for instance you may wish to have a padlock to secure a cupboard or store within the home or for your shed or garage. In the workplace it might be used in order to prevent access to certain equipment or document types that contain sensitive information. The higher the value of the thing you're protecting, the stronger the padlock type you should purchase. Our security ratings will give you a clear indication of the level of security specific padlocks will give for that informed choice.
Our range of padlocks include:
Padlocks for Domestic Use
High Security Range for Domestic Use
Professional Maximum Security Range
We have different types of padlocks within each range; some that are built to last in severe weather conditions, others with keys and without keys. Flexibility with your home security options is important to us.
If you'd like to find out more about our range of padlocks, from our domestic range, right the way through to the maximum security range for professional use, give us a call and we'll be able to provide you with all the information you need to make the right choice for your security needs.
0 Comment
---
Blog Archives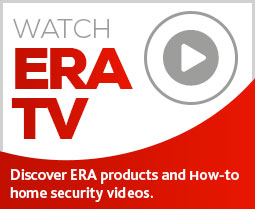 Subscribe to ERA news
Keep up to date with the latest home security news, products and updates with the ERA home Security newsletter.