Date: 12/12/16
One of the first ports of call when assessing your current home security is to check the strength of your doors and windows, and whether the locks on your front door and other entrance points are susceptible to burglary techniques.
Invincible Design and Deterrent
The shape of our Invincible cylinder locks are a strong visual deterrent to any would be burglar, as they will take one look and realise they aren't the usual standard, Euro cylinder lock. The Invincible locks have this different shape to protect the central fixing hole which is notoriously weak in standard Euro cylinders. Reinforcing in this area leads to the different shape, which has 80% more metal in that central fixing hole, meaning that ours can't be snapped, and can even take up to 15 minutes of sustained attack from a potential break-in, and still be in good enough condition for you to enter the key and open the door upon your return.
Five-Star Guarantee
For new doors, ask about the Invincible door lock system and also the supporting ERA Five Star Guarantee to give you the ultimate peace of mind. We are so confident in the security of the locks that if a break-in does occur, you'll be entitled to a free call-out service and up to £3,000 towards the excess on a home insurance claim, a new door and compensation.
Our independently tested Invincible locks provide you with the peace of mind that your doors and windows are secured with the latest security standards in mind. Ask your local door installer about ERA's Invincible Door Security system. We look forward to helping you improve your home security!
0 Comment
---
Blog Archives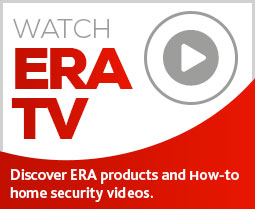 Subscribe to ERA news
Keep up to date with the latest home security news, products and updates with the ERA home Security newsletter.