Date: 09/11/16
One of the ways in which you can enhance the security measures in your home is to install an intercom system. Intercom systems are a fantastic way to ensure you have a clear idea of who is at your front door, a great tool for the elderly and vulnerable who would most be at risk when opening the door to a complete stranger. How do you choose the right intercom system for your home?
Wired Intercom Systems
Within some buildings, especially lower levels or basements, the use of wireless intercoms just isn't feasible. If you have a basic requirement for a two-way conversation, from one side of a door to another for instance, a wired intercom is perfect for your needs. As long as you don't mind there being wires being displayed, it is a solid way to enhance your security.
Wireless Intercom Systems
Wireless phone intercoms systems are easy to install, easier than the wired alternative and can cover a wide range of systems, allowing for two-way conversation. Aside from just a basic intercom system you can also upgrade to a DECT system which also works as a landline telephone or a Video intercom system.
Video Intercom Systems
Whether wired or wireless, video intercoms provide a popular way to interact with visitors to your home and business. It allows a video screen to display to you exactly who is at your door. This provides instant peace of mind and speeds up the decision making process.
With additional handsets and outdoor stations available you can select the right wireless intercom, DECT intercom or video intercom to cover the range that your message needs to travel, fantastic for any home or business. ERA offers a wide range of wireless intercom systems to enhance your home security measures.
0 Comment
---
Blog Archives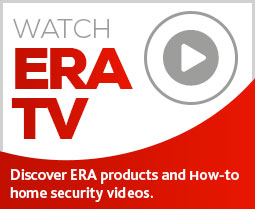 Subscribe to ERA news
Keep up to date with the latest home security news, products and updates with the ERA home Security newsletter.