Date: 24/11/16
Keeping your home safe from potential burglary is an important aspect of daily life. One way in which you can ensure you are doing everything you can to keep your property and family safe is to check the locks on all windows and doors, and if they're not, act decisively.
Security Checks
A good place to start is to conduct a full home security check, or use a free survey such as the one ERA provides. Take a look at all windows and doors on your property, any external buildings, like a shed or garage, and see how secure your property really is. Are there visual deterrents added, such as alarms, window locks, good quality door and patio locks? If not, you can upgrade to offer another deterrent.
Change the Locks
In some cases it might be best to make changes to your property, changing the locks on a variety of windows and doors, or everything in one go if financially possible. Over the years of a property sets of keys may have been given to family members, close friends, workers and other individuals. Changing the locks gives you complete peace of mind that not only do you have the only copies of the keys to your home and to windows/doors, but also that everything is up to scratch with the latest technologies and lock regulations.
At ERA we take home security seriously and our experts are here to help with top tips as well as a service such as our FREE home security survey, giving you all the information you need about how tight your security is at home and how you can improve it. Ensuring locks on windows and doors are up to scratch is a great start with improving your peace of mind at home. We look forward to helping you.
0 Comment
---
Blog Archives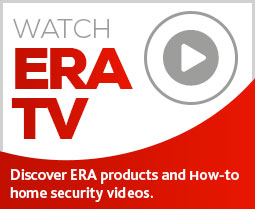 Subscribe to ERA news
Keep up to date with the latest home security news, products and updates with the ERA home Security newsletter.