Date: 23/03/16
You may already have CCTV installed as part of your business or home security system, but is that system out of date? Over the last few years, CCTV systems have come a long way from the eminently visible old style cameras on the outside or inside of a building. The information below will give you some idea of the way CCTV security systems have been enhanced recently.
24-Hour Surveillance
Keeping your home safe has got a lot easier with up-to-the-minute CCTV systems. There is a wireless connection between the cameras and sound recorders fitted in a building. The latest equipment has an infrared cut for better daylight images, and a night time system that produces enhanced images on even the darkest night. With the most modern equipment you can see and hear all the recordings either on a DVD or on your own home computer, which means you'll know what's going on at all times.
Memory
In recent years, the internal memory of CCTV home security devices has increased to the point where you can now have more than a hundred and thirty hours recording time and viewing. With the latest equipment, you can either schedule your monitoring time or have the system run continuously. These systems incorporate a motion sensor and an app which you can use either to schedule, or keep a watch on your home while you are on the move.
You don't have to worry about the cameras during the winter, as the latest units are weatherproofed. The latest technology means that interference is reduced to a minimum and helps to keep your home even more secure.
0 Comment
---
Blog Archives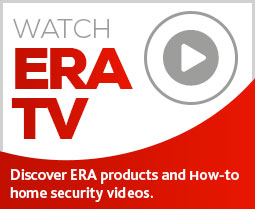 Subscribe to ERA news
Keep up to date with the latest home security news, products and updates with the ERA home Security newsletter.