Date: 26/01/16
Home security is important to everyone, peace of mind that your belongings, property and family are safe should be a top priority. There are many ways that you can make your home safer, Intruder alarms, CCTV and other detection systems can all contribute in making your home safer. However here are a few tips that cost very little and can impact on the safety of your space.
· Ensure that all of your doors and windows have proper, high quality locks on them. This will make gaining entry into your property more difficult. If these locks are visible then this will help to put off any unwanted intruders.
· Make sure your home looks constantly occupied, many burglaries are planned. Make any access difficult, are there any obvious places where someone could hide or escape easily?
· Burglar-proof your outside space. Look at placing gravel around your driveway if you have one, it makes it harder for anyone to approach your property without making a noise.
· Trim any hedges so that your property is not completely hidden from the outside world.
· Known as 'defensive gardening', plant hostile borders in places that are easily accessible, thorny shrubs near fences make it harder for someone to hide.
· Make sure that strong fences and gates are placed in any part of the garden that is easily accessible to an intruder. These should ideally be 2 metres high with trestle at the top. This is easily breakable and could be heard.
· Never leave re-cycling outside especially if you have just purchased valuable items.
· It is also possible to get separate battery operated alarms for sheds and outbuildings. These would be a great idea as they would also sound if anyone attempted at breaking and entering these.
· Get outdoor sensor lights fitted, so if anyone walks onto your lawn or patio a light will come on to show there is a presence there.
0 Comment
---
Blog Archives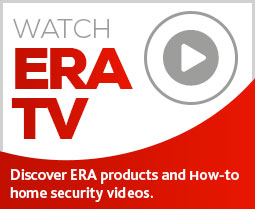 Subscribe to ERA news
Keep up to date with the latest home security news, products and updates with the ERA home Security newsletter.