Date: 09/10/18
The benefits of a home security camera system are well documented, with the element of a physical camera acting as a deterrent to potential intruders, and the knowledge that should anything bad happen, you have access to real time visual and evidence to help you should the worst happen. What about the benefits of a Wi-Fi connected home security camera?
Harder to Disable
Compared with a wired camera, a burglar will find it harder to disable a Wi-Fi connected camera, as even if the normal system is disabled the camera remains connected to the cloud.
Higher Quality
A wireless, Wi-Fi connected home security camera is of the highest quality. If footage is required to look back at an incident you have a much better chance of identifying an intruder.
Live Streaming
Connectivity is key, and with modern home security systems from ERA we can provide you with access to easy to use Apps that allow for live streaming of footage from Wi-Fi connected cameras located in your home.
Flexibility
Our home security cameras are easy to install and are small enough to be inconspicuous and easily moved to new locations as and when you wish to move them to a different part of the home.
ERA has a range of home security products and services for you to take advantage of, including our HomeCam WiFi Camera for ERA Alarm Systems that integrates with our ultimate Smart Home Security system - the ERA HomeGuard Pro. We also offer the ERA DoorCam WiFi Video Doorbell, providing you with access to greater home protection at all times. The free app and push notifications ensure you are always able to see who is outside your home.
For more information about our wide range of home security products please feel free to speak to our team by calling 01922 490 050 or email help@erahomesecurity.com

0 Comment
---
Blog Archives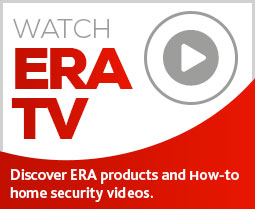 Subscribe to ERA news
Keep up to date with the latest home security news, products and updates with the ERA home Security newsletter.