Date: 11/02/18
Having peace of mind at home is the one thing that every homeowner wishes for. With new advancements being made in home security, feeling safe at home is now a reality. Simple burglar alarms are a thing of the past, and high-tech door systems, cameras, and sensors that are all controlled through a central point are the way forward.
With a smart home security system, you can control all of your security features from your smartphone. And now, the latest innovation in alarm security, ERA HomeGuard Pro uses cloud capabilities to bring even more simplicity and control.
Managed from or from anywhere in world, or just from your sofa, the homeowner can have peace of mind that everything is working correctly and if the alarm is activated, the app will notify them immediately via push notification, email and by phone call which then allows you to listen in and talk.

Compatible with Lightwave home automation, you can now combine your Lightwave Home and Away functions with HomeGuard Pro. So, for example when the HomeGuard Pro system is armed, all lights can be turned off and heating adjusted while away from home and then reversed when the system is disarmed.

Complementing the HomeGuard Pro system, is also DoorCam. Bulky monitoring systems are no longer necessary with two-way door security. Not only will DoorCam let you see who is at your door via a smartphone, you can talk to them through the speaker and even take a picture of them. No more answering the door to strangers, and you won't be caught off-guard ever again.

Smarthome security systems are truly the way forward. They provide a stress-free living environment, which is especially important for vulnerable individuals, people living alone, and families with young children.

0 Comment
---
Blog Archives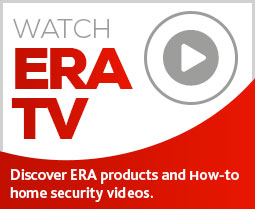 Subscribe to ERA news
Keep up to date with the latest home security news, products and updates with the ERA home Security newsletter.