Date: 26/02/18
ERA are dedicated to supplying advanced smarthome security systems for your home. But what are the benefits of smarthome security systems? How can they make your life easier and give you the peace of mind to know your house is protected? We've outlined the top 10 benefits below:

1. You are always in control
As your smart security product can be controlled by the app, depending on which product you're using, you can grant anyone access to your home or control to the alarm system at anytime, from anywhere.
2. Extra protection
Combining security with smart technologies adds a further layer of protection to your home.
3. Convenient security systems
Users can experience levels of convenience not previously associated with security products, check your home security as easily as checking your emails
4. Easy set-up
Smart security products are so easy to set up, download the ERA app and set up your hub in minutes. Add accessories in 4 easy steps all via the app.
5. Alert your network quickly
If your smart alarm is activated, ERA HomeGuard Pro will simultaneously alert all stored contacts, providing real-time updates via push notification, phone call and email.
6. Timeless Products
Firmware updates can be completed via the cloud, meaning you won't have to call an installer back to upgrade the system to the most up to date technology.
7. Monitor Multiple locations
Smarthome security systems, such as the ERA HomeGuard Pro allows you to monitor multiple locations such as: your home, your business and your garage from one account
8. Peace of mind
One of the most important aspects of home security, you can know exactly what is happening in your property, from wherever you are.
9. Adaptable for you
ERA Smarthome security systems work with existing ERA alarm accessories, meaning the products can fit seamlessly into your lifestyle.
10. Help is on hand
If you need help changing settings and don't feel comfortable using the app, simply share login details with the electrical installer and they can make changes remotely. ERA also provides easy to understand installation videos and great customer service.

There are so many benefits to smarthome security, find out more by speaking to one of our home security experts.

0 Comment
---
Blog Archives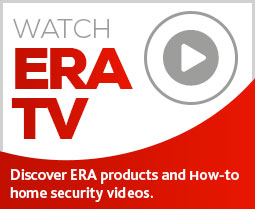 Subscribe to ERA news
Keep up to date with the latest home security news, products and updates with the ERA home Security newsletter.