Date: 26/06/17
As a leader in the home security industry, ERA recognises that there is an inevitable arms race between ourselves and those who wish to try to undermine the safety of our homes. In a fast-moving technological environment, new methods of compromising home security systems are constantly developing. One such method which has gained attention recently is an approach targeting wireless alarm systems, known as 'jamming'.
This highly sophisticated method requires an attacker to identify and disrupt the radio frequency signals which wireless alarms rely on, thus preventing an alert signal reaching the control panel and seemingly disarming the alarm.
Fortunately, jamming is an incredibly rare form of attack and, to date, ERA has experienced no reports of our products falling victim to this practice. However, the security of our customers is of paramount concern to us, so we are keen to provide as much advice and support around the issue as possible. If you are concerned about the issue of jamming or have any questions about wireless alarm systems in general, please feel free to contact our technical support team on 0345 257 1000.
At ERA, we feel that it is our duty to keep our customers informed of developments in the home security industry, and to provide expert advice and support. It is our commitment as a manufacturer to continuously work to stay ahead of all potential threats - from the 'jamming' of wireless alarms through to the physical snapping of cylinders. As such, in October last year we implemented an advanced jamming detection capability into our external sirens and we are also bringing this detection capability to all our alarm control panels.
As home security specialists, we are proud to be able to provide customers with high quality, reliable products and practical advice for securing the home. We recommend that an ERA wireless alarm is used as part of a wider security system, alongside traditional security hardware, to ensure the highest levels of protection against intruder attack.
0 Comment
---
Blog Archives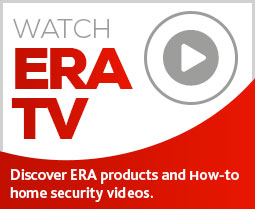 Subscribe to ERA news
Keep up to date with the latest home security news, products and updates with the ERA home Security newsletter.