Date: 06/06/17
Home security should never be taken for granted. At ERA we understand how important it is to conduct regular reviews of your home security systems in order to ensure that everything is up to scratch and to analyse where improvements can be made.
We all understand the basics of home security but it is worthwhile conducting regular reviews to ensure that your current set-up is to a high enough standard. Check all of the locks, windows and doors in your home to see if there are any weaknesses that a burglar could potentially take advantage off. Does your current alarm system work in the way you intended it to? Should your outbuildings be more secure? There are a number of things to look for, but you don't have to conduct a home security review alone.
It is this belief in regular home security checks that has led us to partner up with the Master Locksmiths Association (MLA) to offer a FREE, home security survey to every homeowner in the country. With assistance from MLA and ERA there will be no stones unturned in your pursuit of ultimate home security. Our surveys take into account each individual property, the neighbourhood area as well as the latest home security guidelines, regulations and available technologies.
An MLA specialist will visit your home and put together a list of recommendations for improvements, including the expected costs. You can then decide on the home security improvements right for you, with ERA's vast range of products to help secure any home. Browse our website for more information, or feel free to contact us today about your home security needs.
0 Comment
---
Blog Archives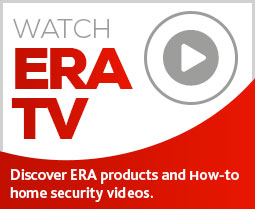 Subscribe to ERA news
Keep up to date with the latest home security news, products and updates with the ERA home Security newsletter.