Date: 19/12/18
The front door furniture that you choose to add a finishing touch and a flourish should obviously be chosen based on the design and how they complement the aesthetic of your home, but that doesn't mean that they should lack the quality of production that adds to your home security levels.
At ERA we offer a wide range of front door furniture and other added touches. Whether you are looking for a Heritage door handle, a Classic letterbox or an architectural door knocker, our range of Fab & Fix Decorative Hardware on offer, is sure to provide you with the ideal solution.
With our range of door knobs and door handles, you can choose a handle that looks great, but is also built to be sturdy and long-lasting. All Fab&Fix products are covered with our Total Security Guarantee which gives complete piece of mind. Fit a combination of products to achieve second to none security and an aesthetically pleasing finish.
The same can be said of window locks, where it is important that you find the right level of detail and design that is pleasing to the eye, but that also conforms with the levels of home security that you have in place.
For letterboxes, you might consider that it is purely a superficial item, but this does not have to be the case at all. With our range of letterboxes we have matched design with security, ensuring that it is highly difficult for any potential burglar to gain entry by utilising your letterbox.
If you would like to find out more about how our front door furniture can help the exterior of your home look good, whilst adding to your home security system, contact the friendly ERA team today. You can find us at help@erahomesecurity.com or 01922 490 050.

0 Comment
---
Blog Archives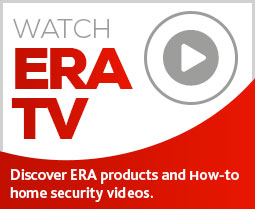 Subscribe to ERA news
Keep up to date with the latest home security news, products and updates with the ERA home Security newsletter.