Date: 13/12/18
Home security systems are forever changing and improving. We understand that it isn't something that you can upgrade on a regular basis, but it is important to stay abreast of innovation and design within home security as a way of upgrading your home security system. Here are a few reasons why you should stay ahead of the criminals and stay as upgraded as possible:
Older Technology is Easier to Crack
A burglar will love it if your home is using really old technology to defend your home. They will have come across old security systems before, and worked out how to get around them.
Stay Up-to-date with Phone Technology
Many older home security systems rely on landline telephone numbers, and 2G technologies. The best modern systems are wireless, so it is effective to upgrade to systems using 3G and 4G, cutting your costs in the process.
Get Connected
The best modern technology is smart and connected. Look at how you manage your home in its entirety, rather than as different segments and you'll soon be able to control your heating, your home security and even your kettle in one press of a smartphone button.
Stay Safe from Any Location
The interconnectivity of smart networks these days mean that you can keep a check on your home from wherever you are. Smartphone connectivity means you can use an app on your phone to keep track of the system. The best examples of this are using ERA Home products, ERA DoorCam Smart Home WiFi Video Doorbell and the ERA HomeGuard Pro Smart Home Alarm.
Limit Potential Black Spots
The newer the home security system, the lower the risk of potential problems with that system. Automation has improved and so to has analysis and data collection from home systems, ensuring that with a new system you have the best chance of limiting the threat of burglars.
For more information about upgrading your home security system contact ERA today on 01922 490 050 or email help@erahomesecurity.com.

0 Comment
---
Blog Archives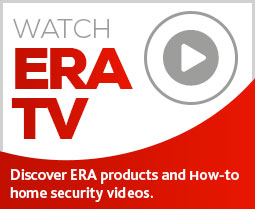 Subscribe to ERA news
Keep up to date with the latest home security news, products and updates with the ERA home Security newsletter.