Date: 09/04/18
At ERA, we offer a wide range of products to help you feel safe at home and your belongings and your property free of damage. The range includes Mechanical Security Products such as British Standard Cylinder Locks, safety restrictors and Smart Security Products, including Video Doorbells, WiFi Cameras, Smart locks and so much more.
Arguably, the most comprehensive security system ERA offers to keep your home secure is the ERA HomeGuard Pro. That isn't to say that it's superior to any of our other products, simply that the ERA HomeGuard Pro encompasses so many features that it's a smart choice if you're looking for smart home security.
With the ERA HomeGuard Pro, you can monitor your alarm system across multiple locations with its fully integrated cloud-based smart home alarm system. You choose who can access your home with anytime access, and you can revoke this access whenever you want. You'll also benefit from ERA HomeGuard Pro's personalised alert log, which shows you who has accessed your property.
You can expand ERA HomeGuard Pro whenever you please to include multiple PIR sensors, the ERA HomeCam WiFi Camera, water detectors and even vibration sensors detectors. The ERA HomeGuard Pro works with all other ERA accessories for complete security.
With the alarm hub, you'll be able to access your system wherever and whenever you want, and it's easy to set up the ERA app for the alarm system on your smartphone. Your personalised alarm data is stored in the cloud, and all firmware updates for the system are done using the cloud.
There's no other smart home alarm system like the ERA HomeGuard Pro.
0 Comment
---
Blog Archives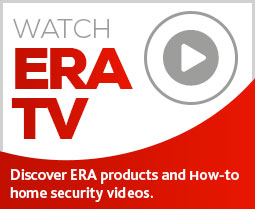 Subscribe to ERA news
Keep up to date with the latest home security news, products and updates with the ERA home Security newsletter.