Date: 16/04/18
Today's video doorbell intercom systems are adaptable and offer several more choices in features than ever before. You can buy a simple two-way communication doorbell intercom, but for the purposes of this article, we're going to be telling you about camera doorbells; a smart door intercom system that allows you to have a two-way conversation and see the visitor at your door without having to open it.
Because you can both see and hear your visitor, a video doorbell intercom system offers more security than any other door intercom system available. By purchasing a camera doorbell, you can even take a photo of the individual at your door for security purposes.
A video door intercom system sets up an extra barrier between you and the person visiting your home. It could be the most secure home measure you set up this year; you never need to open the lock until you're certain it's completely safe to. With the video system, when somebody approaches your door, they buzz the intercom, and the video shows up on your handset. Until you speak or activate your side of the camera doorbell, they won't know you're home. It's the perfect privacy feature.
The newest door intercom to the ERA Smart Home Security range is our ERA DoorCam Smart Home WiFi Video Doorbell. The video camera doorbell has a 180° field of view, records in crystal clear 720pHD resolution and you can access video on demand with Live View. The ERA DoorCam Smart Home WiFi Video Doorbell also allows you to answer your door from anywhere using your Smartphone. The perfect smart home security solution.
0 Comment
---
Blog Archives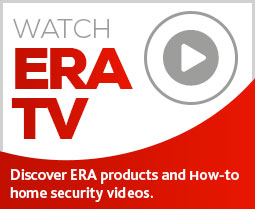 Subscribe to ERA news
Keep up to date with the latest home security news, products and updates with the ERA home Security newsletter.