Date: 15/01/18
When choosing an alarm and video system, you should be looking for a product that is trusted and reliable. ERA has been giving their customers access to the widest range of products designed to work together that total security solution for your home.

With ERA, you're spoilt for choice when it comes to alarm systems. After having one of our free home security surveys, you should have some idea what kind of product would be suitable for your home. There are things to consider: the type of monitoring you want, the product's capabilities, accessibility, cost, and customer support.

ERA is a reputable brand with decades of experience and competitive costs. The have several high-end, smartphone-compatible alarm systems, where you can use your phone to control and program the alarm to suit your needs. Or, for something simpler, there's the ERA Valiant Siren Starter Alarm System, which can be used on its own, or as an expansion pack for any ERA Wireless Control Panel Alarm System. The Valiant Siren system is a solar-powered system with comfort light capabilities, to deter any would-be opportunists. You need to choose the alarm that's right for you.

ERA also manufacturers Door Intercom Systems, from ones as simple as a two-way communication system that you can use from the comfort of your home, to the more complex video system, which boasts a live, high-quality video features, as well as an intercom system.

When in doubt, ERA have an amazing advice team who are easy to contact.
0 Comment
---
Blog Archives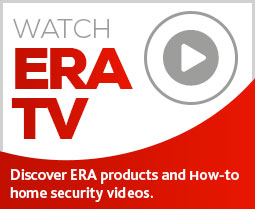 Subscribe to ERA news
Keep up to date with the latest home security news, products and updates with the ERA home Security newsletter.