Date: 12/03/18
As winter starts coming to an end and the sun begins to shine more often, your home is likely to generate more security risks. In the winter, we are prone to staying indoors, where it's warm, with lights on that can deter anyone who might try committing a crime in your area. When it starts getting warmer, we become more careless. We are outside more and with less need for lighting, leave out homes dark. Our rooms require more ventilation, so we leave curtains open, perhaps even leaving windows open, too.
There are several easy ways to ensure home security is at its highest, even during the summer months:
Always close and lock your doors, even when you're at home. This might sound obvious, but open doors are an invitation for someone to walk in at any time, and this can be easily prevented.
Invest in some door sensors and window sensors, prioritising your lower floor windows, as these are the easiest to access. Your magnetic door and window sensors will let you know if the door or window is opened.
Purchase one of our easy to install smart home security systems, with door and window sensors included in the package deal, offering a cost-effective way of securing your home.
Try our ERA HomeGuard Pro Smart Home Alarm System to notify your network of any breaches in security instantly via the ERA app.
Why not buy a Door intercom system? The ERA E3000 Wireless Video Door Intercom System allows you to see and have a conversation with the visitor at your door. If installed with fitted electronic door lock, you can let them in to your home with the touch of a button. Also, with 215 metres operating range between camera and handset, you can monitor this from your garden as you are barbecuing or sun-bathing.
For more information on how to make your home as secure as possible in summer, contact our expert team.
0 Comment
---
Blog Archives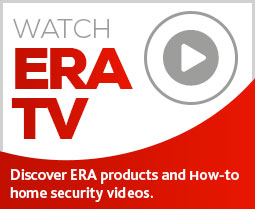 Subscribe to ERA news
Keep up to date with the latest home security news, products and updates with the ERA home Security newsletter.