Date: 19/03/18
Elderly people and people with disabilities can feel quite vulnerable at times, especially if they live alone. In addition to door locks and window locks, there are several safety features that can be easily and quickly installed into their homes to help make them feel more secure.
Home Alarm Systems
After checking the door and window security hardware is in place, consider installing a home alarm system. The ERA Valiant Siren Starter Alarm System is a stand-alone home alarm system that is the perfect solution for smaller properties, like small houses, flats, or bungalows. Its flashing comfort light acts as a visual deterrent 24 hours a day, 7 days a week and its solar powered siren gives year round reliability. A home alarm system can be an early warning sign when things go wrong, or simply provide peace of mind to elderly or vulnerable people living by themselves.
Door Intercom Systems
For people with potential mobility issues a door intercom security system is a great extra smart security device for the home. All ERA door intercom systems come with the option of a fitted electronic door lock. This means you can have a conversation with someone through the intercom from the comfort of your armchair and use the unlock function to let them in once you are confident it's safe. Our door intercoms range from simple two-way conversation system (ERA E1000 Door Intercom system, two-way conversation system through your telephone (ERA E2000 Digital Telephone Intercom, to our ERA E3000 Wireless Door Video Intercom that allows you to see and speak to the person outside your door.
Sometimes, vulnerable people can feel that they are the target of crimes, but with ERA door locks, window locks and security systems in place, a less able person can feel safe and secure in their own homes.
0 Comment
---
Blog Archives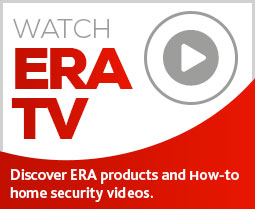 Subscribe to ERA news
Keep up to date with the latest home security news, products and updates with the ERA home Security newsletter.