Date: 28/08/18
Doorbells today have extended functionality, and don't quite have the solo features they had back in the day. As their name reveals, the purpose of a doorbell was simply a way for you to be alerted about someone at your door. Today, with the rise of new technology, the doorbell has been revolutionised into a two-way communication device that allows you to:
Interact with your visitor (by voice and/or video)
Take action from wherever you are, and open the door for your visitor.
The following are some devices that allow you to perform one or both of these actions.
ERA E3000 Wireless Video Door Intercom System
This wireless device has a 2.4" LCD screen that lets you see who is standing outside your door. While only you will be able to see your visitor, you can communicate with him or her from any location in or around your home up to 215 metres.
The ERA E1000 Wireless Door Intercom
This device is suitable for both, residential and commercial purposes. It is wireless and you can communicate with a visitor at your doorstep for up to 200 metres. This covers a good area, and even of you are in your back yard, you will still be alerted and you can communicate with your visitor easily.
ERA DoorCam Smart Home WiFi Video Doorbell
This device operates on WiFi, which means it is operable from any location. You will use your Smartphone to communicate with your visitor, and the device is operated with an app installed on your phone. With HD video input, you will be able to see your visitor, and you can also converse with him or her.

0 Comment
---
Blog Archives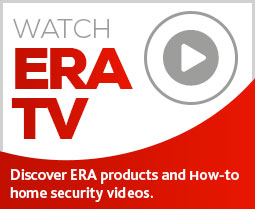 Subscribe to ERA news
Keep up to date with the latest home security news, products and updates with the ERA home Security newsletter.