Date: 21/08/18

While conventional locks and doorbells are still in use and will probably never be obsolete, digital door locks, intercoms and video doorbells are here to stay. The level of security that digital door locks ensure is far greater than conventional measures. Therefore, if you have a conventional door lock or doorbell system that is remotely accessible, ERA's Touchkey Digital Door Lock – coming soon – could be the right solution for your concerns.
Even when you are miles away from home, you can still have access to your personal home security. You can keep an eye on things from any location as long as you manage the internet connectivity. With powerful apps available, your home security is in your hands and you can operate your locks while you are on the go.
With full control in your hands from anywhere in the world, you can easily open a lock to let a guest in or you can secure a door so no one can break through. With high quality footage available on your device screen from a DoorCam wifi video doorbell, you can easily identify and avoid the invasion of an intruder into your house.
The ERA Touchkey Lock - coming soon - is a fully controlled solution that has been designed for store cupboards, staff only areas, IT rooms, office doors or home doors. Keyless operation implies that instead of easy access that is normally available through duplicated keys, this digital door lock requires a keypad based program to unlock the assigned doors; this in turn means that your doors are highly secured and completely controlled by you.
Keep an eye out for the launch of the ERA Touchkey and be ready to secure your home.

0 Comment
---
Blog Archives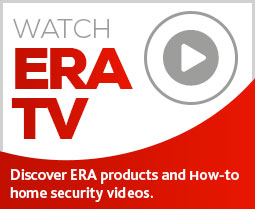 Subscribe to ERA news
Keep up to date with the latest home security news, products and updates with the ERA home Security newsletter.