Date: 19/05/17
The Super Speedy Security Checklist
In all the hustle and bustle of getting up and out on a weekday morning, it's hard enough to remember the kids' packed lunches, never-mind worrying about whether or not your home is able to stand up to unwanted visitors in your absence. With the clock ticking, it's all too tempting to make a dash for the car without so much as shutting the front door in your haste! However, it only takes a moment of lapse on your part for burglars to use this opportunity to their advantage.
Fortunately, ERA realises that for many of us, time is as precious as home security and has thus devised this clever sixty second checklist, meaning we don't have to sacrifice security at the risk of running late!
60 seconds to go…
Do the window wipe-round - You wouldn't leave your front door wide open so why the double standards for windows?! An open window is an open invitation for burglars to access your home. Even small upstairs windows offer an opportunity for determined intruders to break in.
Take a moment to whip round the house and shut tight any windows that might have escaped your attention, including conservatories and bathrooms.
40 seconds to go…
Sound the alarm - Did you know that only half of us with a burglar alarm actually activate it when we leave the house? If you fall into this category, now is the time to change! It only takes a moment to set an alarm, potentially saving weeks of stress and anxiety following a break in.
30 seconds to go…
Lock the doors - Locking the front door is the most obvious form of defence against intruders and yet 42% of people admit to regularly leaving their house unlocked, even when no one is home! It's important to invest in a high quality locking device, such as the ERA Fortress cylinder lock for ultimate piece of mind. Look out for the three star symbol, which indicates that the lock has been tested to British Standards and will provide absolute protection against attack.
20 seconds to go…
Spotlight on security - Just as you would check the batteries in your smoke alarm, ensuring your external security lights are in working order is an essential part of home security maintenance. Take a moment to test yours out as you leave the house and if the batteries need changing, add a note to your shopping list for that day.
10 seconds to go…
Last lookover - Before you jump in the car, make a habit of glancing up at your house as a whole. Note any elements that might signal potential weakness to intruders – such as worn letterboxes, worse-for-wear garage doors or depleted siren boxes – and jot these down.
By keeping a tangible list of things that require attention, you'll be much more likely to get them when you have a bit more time!
0 Comment
---
Blog Archives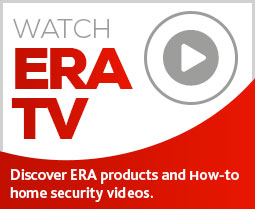 Subscribe to ERA news
Keep up to date with the latest home security news, products and updates with the ERA home Security newsletter.