Date: 12/05/17
There are few better ways to update your home security than by adding a video intercom system. Having a camera at your front door adds that extra level of home security that will help you sleep more soundly at night.
Be Ready for Any Delivery – If you are waiting for a delivery to arrive, or for workmen to visit, having a video intercom system allows you to see (and speak to) those who are buzzing your front door. That way you are never opening the door to a complete stranger.
Scare off Burglars – Having a system at the entrance to your home that has a camera built in and is clear for passers-by to see, will scare off potential burglars. Deterrents are a great option when formulating a strong home security plan.
Peace of Mind to Fully Relax – Whether you are looking to completely switch off from the world after a hard day of work, or want to sleep soundly in bed at night, having an intercom system with a video attached ensures you can do just that. If there is any suggestion of something untoward out front, you'll be able to investigate easily.
If you would like to find out more about our video intercom products and other home security products and services, contact ERA Total Security today. We've got you covered for all of your home security needs.
0 Comment
---
Blog Archives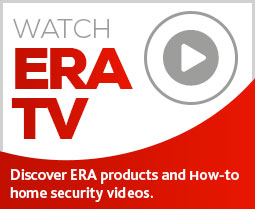 Subscribe to ERA news
Keep up to date with the latest home security news, products and updates with the ERA home Security newsletter.