Date: 16/05/17
We all take holidays from time to time, or need to spend time away from home on business or for family reasons. Leaving your house empty can make it more vulnerable to break ins. When you are away there are many ways you can keep your property as safe as possible from potential burglary.
Regular Checks – Ask a close friend, family member or neighbour to check on your house while you are away and pick up your post. This doesn't have to be every day, just enough to make sure that there isn't a pile of envelopes and other mail piling up on the mat. This is a sure sign to a burglar that there is no one at home!
Fake Light – With products such as the Fake TV, you can simulate the appearance of an active television set in your home. The 'TV' omits light to reflect the appearance of an actual TV but much safer, so anyone walking past your home will assume there is someone awake and watching the telly.
A Normal Routine – If you have blinds in your windows one approach is to keep them open, or partially open, at the front of the house and closed at the back. Any potential intruders would expect them to either be all open or all closed if the property was temporarily vacant.
These are just a few simple home security tips to help give you peace of mind if you are away for a short while. For more guidance and information on a range of products and services to boost your home security, contact ERA Total Security today.
0 Comment
---
Blog Archives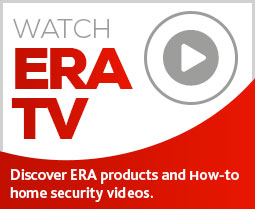 Subscribe to ERA news
Keep up to date with the latest home security news, products and updates with the ERA home Security newsletter.