Date: 24/04/17
Home security is an issue at the top of everyone's list when moving home. How safe is the area you are moving into? Luckily there have been some recent surveys that can help you figure out where best to move when looking for a new property. For everything else that you have control over, ERA has the solutions at hand to bolster your home security.
Money Supermarket has a handy tool that has worked out how many home insurance claims have been made after a burglary between January 2015 and December 2016, and put together a search tool, so you can see how likely it is for you to be burgled based on your postcode. 16 of the top 20 areas are within London, which might not come as too much of a surprise due to the size of the capital city.
No matter where you end up choosing to live you can still be proactive with your home security and ERA can help! We've partnered up with the Master Locksmiths Association (MLA) to be able to offer you a free home security survey. We'll look at every aspect of your current home security and advise on the different ways you can increase security levels to give you peace of mind. It is a simple process, all you have to do is choose a local MLA locksmith, who will visit your home, complete the survey, and talk you through any recommendations and associated costs.
To find out more about our free home security survey, or about any of our products, contact us today and a friendly member of our team will be happy to assist.
0 Comment
---
Blog Archives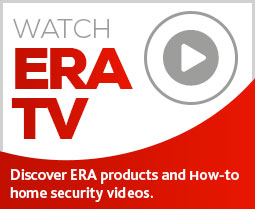 Subscribe to ERA news
Keep up to date with the latest home security news, products and updates with the ERA home Security newsletter.