Date: 28/04/17
If you have a garage or extension you really need to think about the best ways to secure it from a potential break-in. Garages are used for a variety of reasons; traditionally to park your car, but also as extra storage space, a games room, extra bedroom and other purposes. Bolstering your home security plans should always include any garages or extensions, especially if you have valuable goods stored, or active, in that area of your home.
There are a few things to consider if you have a garage, take some tips from ERA:
Don't Advertise the Goods
If you are building a garage, does it really need a window? Having access to see in allows potential burglars to see what goods are hidden behind the garage door. This also applies to common sense when washing your car or working in the garage. If you can do so with the door closed, do so to prevent prying eyes.
Deterrents in Place
If you do have a window to your garage think creatively. A prickly bush planted underneath the window might make someone think twice about trying to enter, as will good lighting that highlights the entrances, reducing the time a burglar will have to enter before being spotted.
Add to Your Security System
Wherever possible we always recommend adding high security grade locks to garages, especially if there are valuable goods inside. You can also add a separate alarm to the garage than you have installed at the main property.
Contact ERA Home Security Systems today and we'll be happy to help you put together a plan to secure your garage. Whether it's with our award winning locks, taking our home security survey or just being more aware of the dangers lurking and how you can be proactive in avoiding them, we are here to help you.
0 Comment
---
Blog Archives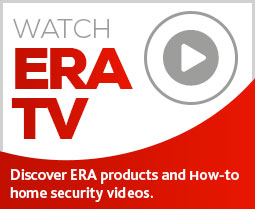 Subscribe to ERA news
Keep up to date with the latest home security news, products and updates with the ERA home Security newsletter.