Date: 14/08/17
Adding an extension to your home is an exciting time. You are adding a brand new area to use as part of your living space, whether it is a conservatory to relax in, an extension to the rear that is to become a large kitchen/dining area, or a garage extension for storage or as an extra bedroom. Whatever you choose to do with your extension there are home security issues to be aware of during the building process and beyond.
Be Careful During the Building Process
When building work is going on at your home it is important to be aware not only of access for builders on site; but also there may be times in the project where parts of the property are open and accessible while the build takes place. Ensure that access is restricted to only those it is really necessary for and have your current security systems set up to be aware of any vulnerable access points.
Choose the Most Secure Windows and Doors
When planning for your extension talk to the builders about your plans for security. Your current locks on windows and doors might need to be translated to the access in the extension, although this will vary from a conservatory to a garage say, as they have different types of entry points.
Update Home Security System
There is no time better to thoroughly review your home security systems than when building an extension to your property. As you are looking at costs for the build, take a look at all potential entry points, lighting systems, alarms and other processes to ensure you are fully safe once the project is complete.
ERA has got your back when it comes to securing your property. We offer advice and guidance based on the years of experience our team has gathered, providing our service to help you add another layer of security to your home after building an extension.
1 Comment
---
Blog Archives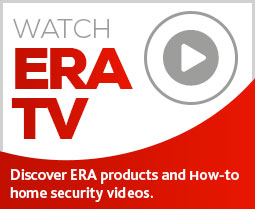 Subscribe to ERA news
Keep up to date with the latest home security news, products and updates with the ERA home Security newsletter.