Date: 21/08/17
Car owners are always aware of the safety and security of their car when it is parked. If you are lucky enough to live in a property that has a garage attached, and you don't want to use it for storage or other purposes, it might be worth parking your car inside at night, or whenever you are away on holiday. That way you can keep it safe and secure, offering you peace of mind.
What more can you do to ensure your car is secure when parked at home?
Pay Closer Attention to Garage Security
The first thing to consider is how to secure the garage itself. Use the most secure locks you can find (ERA has a range of Garage locks including High Security Domestic Padlocks for this very purpose) and if you have home alarm systems and lighting, make sure the garage is covered sufficiently.
Review Access and Windows
Some garages will have windowed doors, and windows at the rear or side of the structure. If you are planning on parking your car in the garage overnight or for long periods of time it might be worth reviewing whether the garage needs these. If you can block windows and have fully covered doors with restricted access, you can raise the security standards on the garage, and in turn for your car.
ERA has a range of products suitable for improving your home security and that of your garage or extension. Contact our team and we'll be happy to provide expert advice and guidance.
0 Comment
---
Blog Archives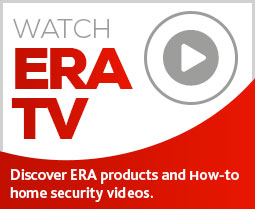 Subscribe to ERA news
Keep up to date with the latest home security news, products and updates with the ERA home Security newsletter.