Date: 12/07/18
ERA Blog June 2018
Over the past few weeks I have been absolutely determined not to whine about the hot weather. There is nothing worse after a miserable grey winter than to finally emerge blinking into the Spring sunshine only to be met with "ooh isn't it hot, I can't cope in this heat", "too much for me - wish it would rain" and the inevitable "suppose they'll be a hosepipe ban soon!". Whilst I am not doing a complete about turn - the joy of stepping out into the golden light and summer warmth first thing in the morning will always be a special joy for me - relentless extreme temperatures are starting to wilt my enthusiasm.
Yesterday was a case in point. A busy Friday started with a trip to the Metropolitan Police Crime Academy in North London to deliver media training to senior Detectives. 7am was glorious as I joined the over and underground commuting world. The sun was shining, a fresh breeze blew, and the general mood seemed high, there was even the odd exchange of smiles and courteous nods of "...after you...". I thought for a while I had joined a parallel universe - this was not the daily commute I remembered!
Sadly it didn't last, two and a half hours on my feet in a classroom followed by an hour in a mock-up TV studio complete with full-on spotlights, left me wilting a bit to say the least. For those wondering, the very expensive high tech new training facility at Hendon looks and is fabulous, but the ability to adequately temperature control the classrooms still eludes the technology boffins behind the scenes. At least you could open a window or switch on a fan in the creaky old building, even if bits of plaster did keep falling off the ceilings.
Still, a litre of water and liberal application of refreshing unguents in the Ladies, and I was ready to go again. This time to Victoria for a meeting which meant back onto the underground. The intervening 4 hours of relentless searing heat had resulted in a complete deterioration in conditions.
No more happy commuters, the up beat mood had been replaced with steely determination to get through a journey in a packed metal tube as quickly as possible without fainting. Now, I believe there is air conditioning on underground trains - in fact I swear I felt a brief whisper of cool air at one point (although I could have been hallucinating) - but as I ended up spending the whole journey with my nose in the armpit of a man who I had, by the end, decided was an eastern European sumo wrestler, it certainly had no impact on me.
The following couple of hours spent in the welcoming arms of Costa Coffee's air conditioning, plus a caffeine hit, left me replenished once again so I decided a walk over Westminster Bridge to Waterloo to catch my train home seemed like a perfect end to the day, and the opportunity for some fresh air.

A walk over Westminster Bridge is special- no matter how many times I have done it. Apart from the fact that it provides one of the most breathtaking views in London, it has now taken on the additional role of enabling me to feel I am in my own small way proving a point to those terrorists who last year destroyed so many lives in a futile attempt to impact our basic freedoms.
For that reason the sight of about 2000 tourists on the bridge was initially uplifting in the moment, but soon became a strange version of bumper cars at the funfair - without the cars! The throng carried on over the bridge passed the London Eye and through Jubilee Gardens, I ended up practically crowd-surfing a sea of multinational selfie-taking people who strangely all seemed to be going in a different direction to me.
After tumbling into Waterloo station and negotiating the 5.30pm rush hour crowd - who believe me are brutal - I dashed onto another train which was in dire need of a deodorant spray and a cool breeze, and eventually got home. Standing under a cold shower for god knows how long (as by this time I was running on air) started my recovery, which was completed when I finally collapsed with a cold beer onto the garden lounger.
Finally coming to I looked around me. The windows of the house were all open - had I done that? The side gate was unbolted - was that me? I leapt up and checked the ramshackle collection of wood that is my garden shed, bicycle - check, lawn mower - check, strimmer - check, barbecue - check. Whilst going through the contents of my shed and garden I mentally started adding up the value of these items - wow - when I hit £1,000 I realised just how much this collection of items would really cost to replace. I suspect I am not alone.
Thankfully I discovered my daughter had come home early from work - similarly beaten down by the heat - opened all the windows and doors, gone to her car via the side gate and then fallen asleep with heat exhaustion.
It is so easy to be complacent about home security during the hot weather - who, we think, in their right mind would be out burglaring in this heat. Well, sorry but they do - in fact it is a brilliant time for them. The idea of coming home to a stifling hothouse leads to the temptation to leave windows 'just a little bit' open, to leave valuable items lying around the garden ready for us to enjoy when we get home. I have reported on numerous burglaries taking place whilst the occupants are in the back garden consuming large amounts of alcohol and incinerated chicken believing that because they are 'at home', leaving doors and windows open is not a risk. Decent bolts on garden gates and sheds are really not expensive - particular when you consider the value of items inside - and an alarm can also be a very cost-effective and easy to fit option.
So when we get the chance to laze in our gardens for as long as this heat wave continues, a few minutes thought about keeping our homes secure will pay dividends, and equally important looking after ourselves by drinking water, and keeping cool. Plus for me, most important of all, not scheduling meetings in central London during 35 degree heatwaves on Friday afternoons!

0 Comment
---
Blog Archives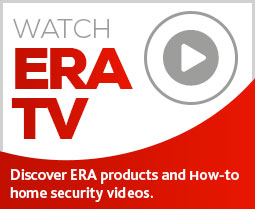 Subscribe to ERA news
Keep up to date with the latest home security news, products and updates with the ERA home Security newsletter.