Date: 23/07/18
The rise of the internet has brought with it so many wonders. Internet and networking connections have created numerous possibilities, one being wireless technology that helps you maintain contact regardless of far you are from the assets you want to keep an eye on.
The ERA DoorCam Smart Home WiFi Video Doorbell is an example of how avidly wireless technology is leveraged. This particular device is a prime example of implementation of the latest technology, which includes the use of the network of your home as well as a mobile app to keep you alerted on the go. It truly allows you to be in…even when you're out!
The ERA DoorCam Smart Home WiFi Video Doorbell is such a great security and convenience solution because no matter where you are, you can answer your door through your Smartphone. Here are the top features of this doorbell camera:
180° field of view and crystal clear 720p HD resolution
Video on demand with Live View
IP65 rated Dust and Water Tight
Infrared night vision for round the clock protection
Customisable motion zones to focus on specific areas
Powered by existing doorbell wiring or plug in power supply
Connects to your home WiFi network
Bank-grade encryption of your data ensures privacy
Easy setup via Smartphone App
You have visual monitoring with a 180° field of view as soon as you answer the doorbell through your app. So whether you're hiding from the in-laws, answering the door to the postman when you're out and about, or keeping an eye on your property whilst you're on holiday, the DoorCam WiFi Video Doorbell is the perfect front door security solution.
0 Comment
---
Blog Archives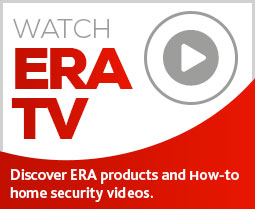 Subscribe to ERA news
Keep up to date with the latest home security news, products and updates with the ERA home Security newsletter.