Date: 13/11/18
As a homeowner you are always looking for new ways to improve upon the security measures that you currently have in place. At ERA we have a range of security measures on offer, both traditional mechanical security, as well as smart technology that can be utilised to strengthen your home security measures.
Aside from the physical home security products, what else can you be doing to keep your property safe?
Look after Keys
Always be careful to know exactly how many copies of your house keys exist, and who holds them. Never leave keys under the doormat or hidden in a plant pot and always change the locks when moving in to a new property.
Plan Holidays Carefully
If you'll be away for a period of time, be sure to cancel any deliveries of food or milk that are regular. Ask a trusted friend or family member to visit regularly to check for and move post out of sight, and to keep the home looking active.
Secure your Exterior Buildings
If you have a shed or a garage it is vital that you secure them properly. Burglars will look to outbuildings as a potential treasure trove with equipment and machinery in a quieter spot than the home. Use strong locks and windows.
At ERA we can help you with the addition of strong locks and padlocks to secure your doors, windows and exterior buildings such as sheds and garages. We also offer smart technology in the form of doorbell cameras and home security systems that can be accessed via your smartphone wherever you are. If you would like to find out more about both sides of our home security approach, contact the team on 01922 490 050.
0 Comment
---
Blog Archives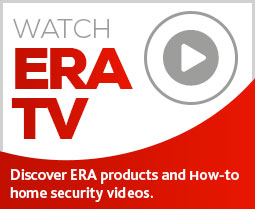 Subscribe to ERA news
Keep up to date with the latest home security news, products and updates with the ERA home Security newsletter.