Date: 27/11/18
In recent years the development of smart home alarm systems has ensured that the standard of home security continues to rise at a consistent pace. That's why at ERA we have developed a range of smart home security systems that help our customers integrate different applications within the home to improve the robustness of home security and offers peace of mind, without having to overthink the process.
The ERA HomeGuard Pro for example, is one of our best smart offerings. It is a fully integrated cloud based smart home alarm system that is easy to install, simple to use, and provides real-time, live data that you can access direct from your smartphone.
Easy Set-Up
As with all of our smart alarm systems, the ERA HomeGuard Pro is very easy to install, with a Smartphone app helping you to access quick controls and management in the cloud.
Simple App
With the App you have access to live data relating to your home from wherever you are. You can monitor multiple hubs from the single app, store all settings securely in the cloud and allocate and revoke access to other users as you wish.
Integration and Connectivity
The beauty of all of our smart technology is that it can be integrated with other smart technology and applications you have in your home. It works with Lightwave, ensuring that you can control other home functions such as lighting and energy use as you arm and disarm your alarm system.
If you would like to know more about our smart technology contact the friendly ERA team today by calling 01922 490 050 or emailing help@erahomesecurity.com.

0 Comment
---
Blog Archives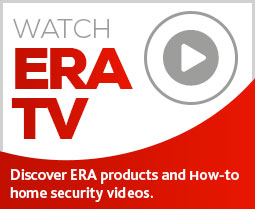 Subscribe to ERA news
Keep up to date with the latest home security news, products and updates with the ERA home Security newsletter.